Head Trainer & Barn Manager
Michael is a hunter and jumper professional who has grown up in the horse business his whole life. He grew up primarily here in Georgia and Virginia. Out of the junior ranks, doing the Junior Hunters and the Big Eq, he stepped into the professional platform at 19.
Taking over the family business in his early 20's, he started his grand prix career and began traveling up and down the east coast, and eventually across the country. He furthered his career traveling from here to Texas, Arizona, California and many points in between. He has developed horses and riders over the years. From the short stirrups all the way to the grand prix level, plus many successes, including: high placings amongst WCHR (World Championship Hunter Rider), horses and riders qualifying for Devon, Junior Hunter finals (east and west), and placing in most of the indoors series.
Michael has worked with greats such as George Morris, Don Stewart, Vick Russell, Greg Best, John French, and many others. Michael is also acquiring his "R" license as a USHJA judge.
Dr. Kara O'Connor Yarbrough
Trainer/ Instructor/ IEA Coach
Kara's passion for horseback riding began at the early age of six and her dedication, hard work, and love of the sport has brought her where she is today. Kara holds a Bachelor's degree in Equine Science from Lake Erie Collage and a Doctorate in Chiropractic from Life University. She is certified in Animal Chiropractic, Equine Postural Rehabilitation and Equine Sports Massage.
Growing up in Pittsford, New York Kara showed in the Junior Hunters, Jumpers and Equitation divisions at A-rated and local shows earning multiple championships. During her time at Lake Erie she competed on their IHSA team. Numerous times she qualified and represented her team for Region, Zone, and National Finals. In 1996 she was Regional Reserve High Point Champion and helped the team place 5th at National Finals in LA.
Kara also groomed internationally including at the Central American Games in Venezuela. She continues to compete professionally in hunter/ jumpers and dressage as well as ride with top clinicians. Kara has the reputation as an understanding and patient instructor. She provides hands on care for all the horses with which she works. Kara's ultimate goal is to guide her students towards the confidence, skill and foundation in their riding to reach their potential as well as the potential of the horse. With her ability to motivate and challenge students, Kara has produced many competitive horses and riders.
For over 10 years Kara has coached IEA. Throughout those years her teams have won many championships as well as her riders placing individually at National Finals. This season her team is Region Finals Champions and took home 3 rd at Zone Finals. Kara is excited to coach Foxcroft's team this coming season.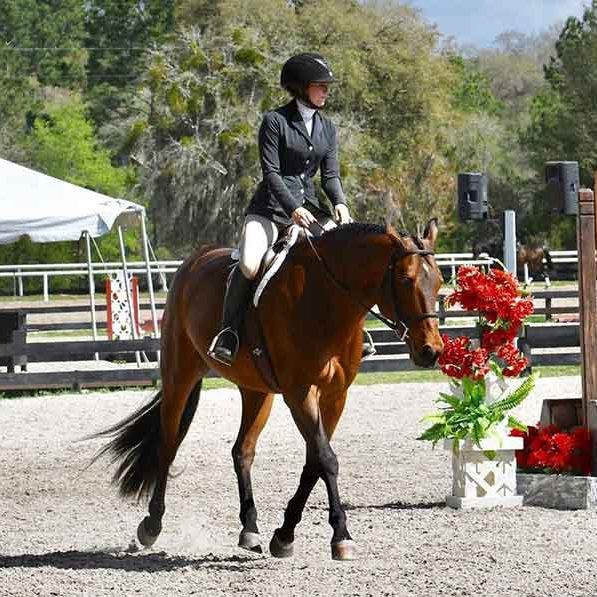 With over 17 years of Equine experience and an Associate Degree from the College of Central Florida in Equine Business Management with a concentration in Equine Nutrition and Exercise Physiology, Chelsea is no stranger to the industry, and has always taken great care in the treatment of her equine partners.
Growing up in Wellington and Ocala Florida she rode AQHA and 4H, and has shown all throughout the Southeast, including multiple AQHA World qualifiers and Congress Top 5 placings and multiple wins at the Area, State, and Regional level. After graduating college she spent several years on the road grooming and competing on the A Circuit, winning at HITS, Tryon, and WEF alike in the Jumpers and Hunters. Throughout those years she became a kind, understanding, and positive instructor and enjoys pushing her students to be their very best no matter what. She excels in teaching from beginners who have just set foot in the stirrup all the way through top level Jumpers.